A Tradition of Thinking Ahead
Tracing its heritage back to 1941 and merging into its current composition in 1990, Berliner Corcoran & Rowe LLP is named for Hank Berliner, Thomas Corcoran, and James Rowe, three former prominent Washington DC attorneys. The firm's story begins many years earlier, in the early years of Franklin D. Roosevelt's presidency.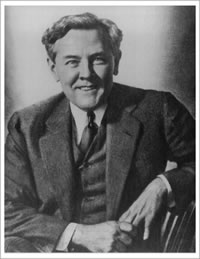 Thomas Corcoran made a name for himself as co-engineer of the second New Deal. After serving as law clerk to Supreme Court Justice Oliver Wendell Holmes and working as a corporate lawyer in New York, Corcoran made the jump into writing legislation after President Roosevelt took notice of his efforts at the Reconstruction Finance Corporation. Along with Benjamin Cohen, Corcoran, nicknamed "Tommy the Cork" by Roosevelt, wrote the Securities and Exchange Act, the Public Utility Holding Company Act, and the Fair Labor Standards Act, among other laws.
Cohen and Corcoran became known as the "Gold Dust Twins," and the "Hot Dog Boys" (the latter from being under the tutelage of Felix Frankfurter). Their efforts even landed them on the cover of TIME Magazine's September 12, 1938 edition. However, such success did not come without sacrifice. The men worked tirelessly round the clock, very often throughout the night. James Rowe, who later joined Corcoran in private practice, recalled being criticized for "needing a lotta sleep" after announcing to Cohen and Corcoran that, at 3:00 am, he could not continue working through the night, on a client's behalf.
Corcoran was known among his peers as being "ebullient," and a "brilliant, personable and witty" individual. His ability to tackle difficult matters while keeping his charm and affability intact extended beyond selling New Deal legislature. As a lawyer in private practice, Mr. Corcoran was known for defending clients such as giant oil companies and pharmaceutical firms in investigations by Congress.
The tradition of tackling tough cases with exuberance, charm and expertise lives on in Mr. Corcoran's son, Thomas Corcoran, Jr., senior Partner at Berliner Corcoran and Rowe LLP, who characterizes the spirit of the firm.
The Berliner branch of the merged firms continues in the spirit of Hank Berliner, Jr., adviser to presidents, chairman of the Pennsylvania Avenue Department corporation, banker, businessman and lawyer who, in turn, embodies the virtues of his grandfather Emil Berliner, the inventor of the flat record, the helicopter and with Alexander Graham Bell, the functional telephone. Hank's lineage translates to openness to new technologies, evolving markets and business models -- principles to which the firms' lawyers subscribe in representing private and public sector clients in the United States and world-wide.