Firm News


Updated November 3, 2021


We are saddened by the death of author, litigator, adviser to ambassadors, lecturer and colleague Peter Heidenberger, 1922-2021. He covered the Nürnberg Trials and represented Germany before the U.S. Supreme Court, and so much more. Rest in Peace, Peter!

Partner Clemens Kochinke's next USA Country Report was published in the November 2021 issue of the major German law journal Kommunikation & Recht. It covers the intersection of law, technology, intellectual property and distribution.

Perry Bechky spoke to an industry association about the Biden Administration's emerging trade policy, focusing on the ways that national security considerations generally and China in particular affect various aspects of policy. Perry's presentation is available here.

The Duke Journal of Comparative & International Law published an article by our partner Perry Bechky, called Investor-State Arbitrators' Duties to Non-Parties.

The JustPod: Anti-Money Laundering Act of 2020. The ABA published the podcast featuring our partner Bruce Zagaris.

Partner Clemens Kochinke of Berliner Corcoran & Rowe LLP explained in his periodical USA Country Report new legal developments in journalism, free speech, internet and copyright fair use in the June 2021 issue of the major German law journal Kommunikation & Recht.

On May 13, our partner Bruce Zagaris was a panelist on "Geopolitical Competition and Cooperation in the Caribbean" by the Florida International University Latin American/Caribbean in cooperation w/ the Caribbean Policy Consortium. Watch his presentation at minute 1:08.

Partner Clemens Kochinke sponsored a Buy American Act webinar by the Delegation of German Industry and Commerce in Washington, DC on April 14, 2021. Our procurement expert John Ordway was one of the featured speakers.

Chambers Global has recognized the excellence of our Export Controls and Economic Sanctions group by ranking them among the top groups in the world in this practice area.
Chambers Global has also again given its highest ranking to our partner, Ben Flowe.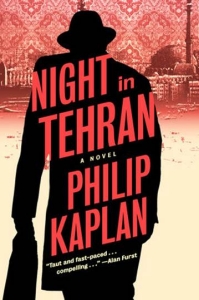 Partner
Philip Kaplan
, a former career diplomat and ambassador in Europe and Asia, has published his debut novel -- Night in Tehran -- with Melville House. Based on historic events, and frighteningly relevant to today's headlines, the thriller tells a tale of one American diplomat's year of living dangerously in Tehran in the days leading up to the Iranian Revolution. The novel has been endorsed by espionage writer Alan Furst and former Supreme NATO Commander Admiral James Stavridis and is available from Amazon.
This summer, we gutted, rebuilt and expanded our offices. Personal meetings remain limited, however, because the Washington, DC, are is in Phase 2 COVID mode. Throughout our office building, face masks and other precautions are required. Practically speaking, your attorney can guide you on virtual meetings and other arrangements. We have been working successfully despite the limitations.
In April 2020, Berliner Corcoran & Rowe LLP welcomed a senior expert in international law,
David Baron
, as a new partner in the international litigation and business practice areas.
In The News

Recent Speaking Engagements

Recent Publications

Partner Clemens Kochinke's periodical USA Country Report for March 2020 appeared in the major German law journal Kommunikation & Recht. The report covers privacy, online services, free speech and defamation as well as procedural issues.
Bruce Zagaris published an article on the abuse of economic sanctions and how it is undermining the use of financial suasion. You can view the article here
The Chinese translation of the Business Guide to Trade and Investment will be published imminently. Perry Bechky contributed the chapter about the jurisdiction of arbitral tribunals in disputes between international investors and host governments (investor-state arbitration). The book is published by the International Chamber of Commerce and the International Law Institute, and it features contributions from many leading practitioners with a practical emphasis on how international trade and investment law affect businesses. The English version of the book is available online, including from Amazon
Bruce Zagaris published an article on the politics of international regulatory initiatives followed by U.S. federal and state initiatives to attract foreign investment, including a section on regulatory arbitrage, in particular entity transparency, anonymous foreign investment in U.S. real estate, and automatic exchange of information, and the impact of small jurisdictions in the Carribean. You may view the article here.
The International Chamber of Commerce (ICC) and International Law Institute have just published Business Guide to Trade and Investment – International Investment Volume 2, which includes a chapter by Perry Bechky about the types of disputes (jurisdiction) that may be submitted to ICSID arbitration and other fora for investor-state arbitration.
Perry Bechky published an article about the duty of ICSID arbitrators to make jurisdictional rulings in the Journal of Law and Practice of International Courts and Tribunals. The article may be downloaded here.
Perry Bechky published an article about economic sanctions in the Missouri Law Review. The article may be downloaded here.
Perry Bechky co-edited for the American Society of International Law the second edition of International Law: 100 Ways It Shapes Our Lives. The publication may be downloaded here.
Partner Clemens Kochinke's periodical USA Country Report for March 2018 appeared in the major German law journal Kommunikation & Recht. The report covers privacy, online immunity under the CDA, free speech and viewpoint discrimination as well as jurisdictional issues.
Perry Bechky's article on Microinvestment Disputes has been republished as a chapter in a new book from Oxford University Press on Small & Medium Sized Businesses in International Economic Law, 2017.
Partners Benjamin Flowe and Daniel Fisher-Owens published an article on Export Control regulations on dual-use technology and software. You can download the article here.
An article by Bruce Zagaris entitled "Antigua and Dominica make changes to diplomatic passports as proper regulation of citizenship-by-investment continues to be an issue for the Caribbean" was featured in Cayman Financial Review on July 18, 2017. Read it here.
Bruce Zagaris was featured as a guest blogger on Money Laundering Watch on July 4, 2017. Read his post, "AML Due Diligence Standards for U.S. Lawyers" here.
Bruce Zagaris authors article "Trump yet to play his cards: What Next for FATCA Agreements and Transparency in the US," which appears in the current issue of the STEP Journal. Read the article here.
On April 26, 2017, Bruce Zagaris authored an article for Cayman Financial Review "U.S. suspension of premium processing for H1-B visas creates opportunities to attract high-tech businesses to the Caribbean: Barbados as a model." Read the article here.
On January 10, 2017, Bruce Zagaris' article "International Enforcement Cooperation in the Western Hemisphere: A Search for a Better Architectural Framework" was published in Terrorism: An Electronic Journal and Knowledge Base, Vol. V, No. 3 (December 2016). Read the article here.